Get Big Benefits from Big Data – With a Structured Engagement Approach
Define business goals that are expected from the insights derived from 'Big Data'

Formulate a primary business use case to start with

Conduct feasibility of business use case including availability of data

Ensure a defined data governance framework to adequately protect information privacy and security

Connect stakeholders including senior management as well as those mid and operational level users who are directly linked with the primary use case

Execute a proof of concept around the primary business use case (PoC). PoC should aim at combining internal data from data warehouses, log files and transactional systems such as ERP, CRM, log files with external data from social media, benchmarks or third party data

Upon validation of PoC, assess choice of tools/technologies and sizing of infrastructure required for enterprise wide implementation

Take a structured approach of ingesting data from different platforms, transforming and proceed with analysis and insights

Monitor adoption and ROI of big data system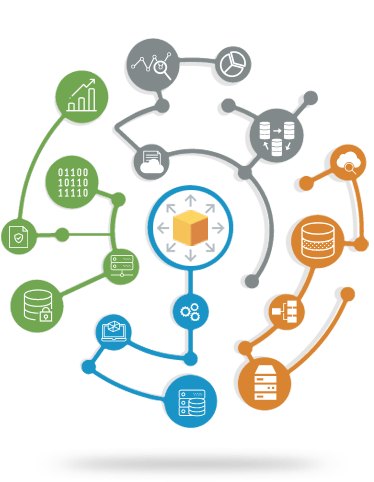 Consulting
Data Strategy, Technology Selection and Architecture Advisory

Data Integration and Management
Extraction of Big Data from diverse sources and processing of the same

Cloud Services
Secure, scalable and high-performance big data platform on the cloud

Discovery Services
Visualization services on top of Big Data processing landscape

Performance Tuning
Monitoring, maintenance and enhancement to improve performance

Training
Training on technologies like Hadoop, Apache, Spark, Hive, Cassandra, MongoDB
Technical Considerations for Recommending Tools/Technologies
What is the structure of data sources which needs to be leveraged within business? Is it unstructured, semi-structured or highly structured?
What is the analysis type which should be used? Is this batch or streaming/real-time?
What is the volume of data received? Are these massive chunks or small and fast chunks?
How to store data or how to process it?
Data frequency of the data being processed? Is it on-demand, continuous feed or real-time?
What type of data sources do we need to work with? Web & Social, Machine generated, human generated, biometric, transactional system or other?
What will be the consumers of this data? Will it be human, business process, other enterprise applications or other repositories?
How to visualize results?
Expertise across Technology Stacks
GrayMatter has an experienced team of Big Data Specialists. GrayMatter's Big Data experts have skills in a variety of technologies & tools including Hive, Cassandra, Hadoop, Spark, Hbase, MongoDB, Kafka and Flume