Networked-devices ready ecosystem for the future of sensor-fusion data
Store Sense is an automated, independently operating plug-and-play device that needs minimal intervention at installation or through life. It is economical to install and also train in-store staff.
The Store Sense IoT device works on LAN, WIFI and Mobile networks and can fuse data from multiple POS machines as well as multiple data assets like boarding passes, passport scanners, and other input devices.
Explore the functional overview of the Store Sense solution, describing salient features of the device or view the walkthrough video for more details.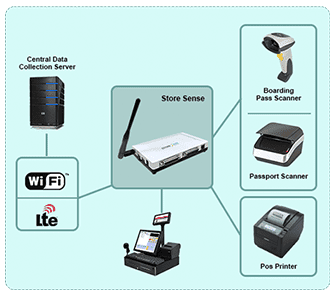 3-point system uptime protocol

Electronic pulse monitoring
Pulses from the device ping the central server every 15 seconds to detect any system malfunction within a quarter of a minute.
Multi-alerts instantly go out to on-location personnel, the central monitoring team at Bangalore, India, and the local field engineer for PoS terminal device maintenance checks.

Pattern recognition algorith
The system is trained on the store's hourly sales pattern profile and on detecting deviations, alerts support staff

Transaction sequence check
This feature alerts support staff when a sequence number is skipped in the data record flow.
Contact for a personalized
product walk-through…