Airport Analytics (AA+) optimizes profitability
and enhances passenger experience
GrayMatter's Airport Analytics (AA+) is a comprehensive product addressing enterprise-wide BI & Analytics needs of airports. The Airport Analytics product is role-based and meets decision support needs across levels in every department of an airport.
Airport Analytics (AA+) is a deployment-ready solution with a 4 weeks delivery promise made possible due to our pre-built airport analytics solution including pre-built data model, extractors, KPIs, dashboards, reports, queries. The solution integrates with 20+ source systems and consists of 10 modules, 48 sub-modules, 100+ dashboards, 450+ KPIs and 20+ predictive models.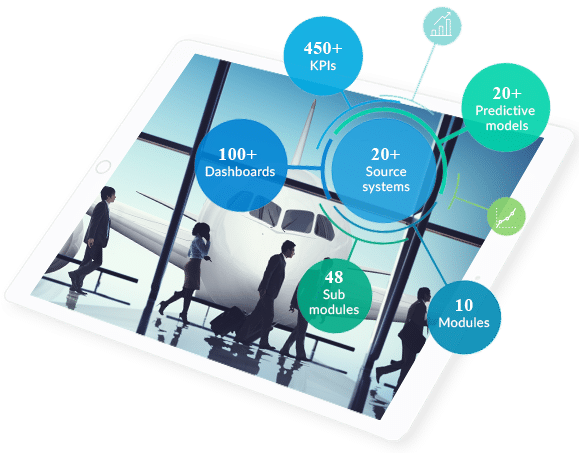 Modular Proposition
The modular design of the solution ensures coverage of specific sub-functional areas within Airport business.
The image below depicts the AA+ modules and the value proposition of each of the modules
Operations
Improve passenger experience by increasing efficiencies at multiple touch points
Infrastructure
Monitor project progress & pro-active maintenance for better efficiency and serviceability
Ground Handling
Improve profitability with Optimized productivity and Improved quality of services
Environment & Sustainability
Analyze area of improvements to maintain safe and energy efficient business operations
Survey Analytics
Enhance passenger and customer satisfaction through feedback driven analytics
The AA+ Advantage
GrayMatter's AA+ has been successfully implemented for global airports, who have experienced remarkably high return on investment for AA+ This high ROI is driven by significant business benefits enhancing the airport business revenues, reducing its expenses and of course by elevating passenger satisfaction.
The success of the solution is driven not only by its extensive breadth and depth of functional coverage but also due to the technical differentiators driving the advantages depicted in the image. Its notable to mention that some of these differentiators ensure a total lower cost of ownership for AA+ which in turn, contributes towards a higher ROI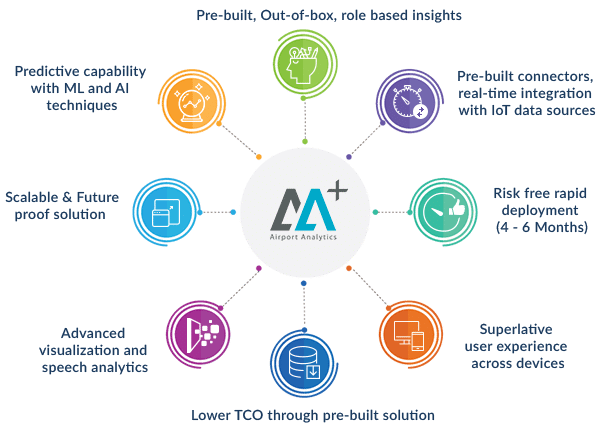 AA+ is a KPI-driven solution built on the 4Ws premise of what, where, when and why which ensures that the business user gets a complete picture of any business issue and can drill-down the root cause.
The solutions is equipped with extensive drill downs, slice-dice, collaborative features and also powered by the latest advanced analytics techniques which makes it an unparalleled product of choice!
No One Covers Airport Analytics the way we do!
At GrayMatter, Your Business Matters!
At GrayMatter, Your Business Matters!