Finance Analytics (FA+) Solution to meet Strategic,
Tactical & Operational Information Needs of your Finance Function
GrayMatter's Finance Analytics (FA+) is a comprehensive product addressing BI & Analytics needs of the finance function of any organization. The Finance Analytics (FA+) product is role-based and meets decision support needs across levels in a finance function, from CFO to entry-level.
Benefits:
Rapid implementation leading to lower TCO.
Faster, predictable, guaranteed deployment with 50% less effort and schedule than the regular BI implementation life cycle.
Built for superlative user experience, expedite decision making through advanced visualization , intuitive data discovery and what if scenarios, single interface for Web, Mobile and data access on MS office applications.
Pre-built and established data governance process to promote data quality and transparency as well as reduce redundancies.
Risk Free implementation with prebuilt accelerator like data model, ETL connectors and metadata layer deployed and tested with other customers.
Master data management for data enrichment.
Modular Proposition
The modular design of the solution ensures coverage of specific sub-functional areas within Finance function. The image below depicts the FA+ modules and the value proposition of each of the modules

Payable & Receivable
Helps organization to analyze cashflows thus enabling more efficient cash & working capital management

Cash Management
Optimizes Cashinflows, cash balance and cash outflows of the organization

Financial Ratios
Analyses company performance and utilization of company's resources
Fixed Assets
Analyses with respect to their productivity, efficiency, performance and profitability

General Ledger
Heart of the account systemin any enterprise contains accounting transactions from sub ledgers

Treasury
Deploys idle funds obtained after addressing the organization working capital requirements

Audit & Compliance
Increases organization productivity and efficiency to focus more on core business
The FA+ Advantage
GrayMatter's Finance Analytics (FA+) is a pre-built analytics solution for finance function, that has successfully delivered value across industry verticals including technology, aviation, insurance, retail, transportation and others. The solution offers breadth and depth coverage of finance analytics and provides key business benefits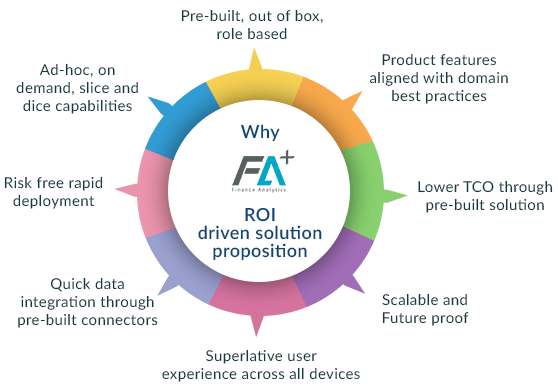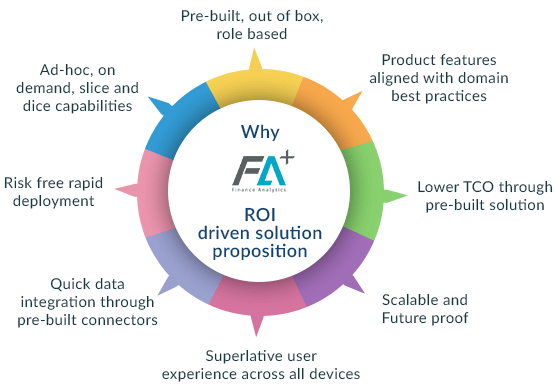 Solution Architecture
GrayMatter's Finance Analytics (FA+) is a pre-built, role-based analytics solution with end-to-end coverage including extraction of data from disparate source systems, transformation of data according to business rules, load of data to data warehouse and reporting, dashboarding, analysis and visualization on top of such data. The solution is also equipped with advanced analytics features enabled by data science techniques. The solution is also capable of pulling data from IoT sensors.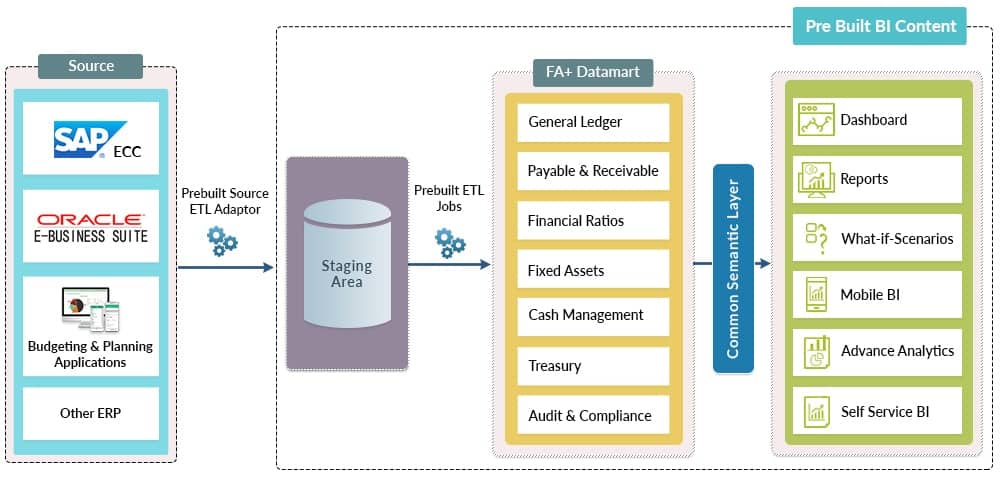 FA+ on cloud
Finance Analytics (FA+) is now available on the cloud to enable your strategic and tactical financial decision support at a remarkably low total cost of ownership. The Finance Analytics (FA+) solution hosted on Microsoft Azure offers you compelling business insights with complete assurance on information security, smart back-up and recovery options, easy access for mobile workforce and increased collaboration. The solution deployment requires zero capex with a pay as you go basis fixed monthly fee, you get to see the business benefits over time even as you spend your opex! And all this with no operational hassles of maintenance, upgrades, patches and allied IT staff requirement for the same!