Expert
SAP BI

 Consulting services driven by GrayMatter's Competency Center
Expert
SAP BI

 Consulting services driven by GrayMatter's Competency Center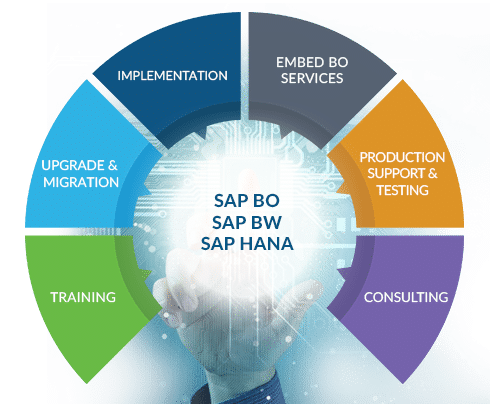 GrayMatter's SAP BI Journey
GrayMatter's SAP BI experts have successfully delivered several global engagements to customers across verticals including Retail, Electronics, Manufacturing, IT, Airports & Infrastructure. These projects include work done across data integration, data warehousing, dashboarding, reporting, self-service analytics, predictive analytics, migration and more, with the entire range of tools namely SAP BW, SAP BODS, SAP HANA, SAP Design Studio, Lumira, SAP Dashboards, WebI, Crystal Reports and SAP PA. GrayMatter's excellent capabilities in SAP BI tools coupled with deep industry-specific domain knowledge, makes us the vendor of choice for SAP BI Consulting Services & Implementation.
GrayMatter Credentials
Count of projects delivered
Our SAP BI Consulting Services
GrayMatter's SAP journey has evolved over the past decade and spans the entire gamut of SAP BI technologies & tools. Being an SAP partner, we are cognizant of the constant innovation that the product roadmap involves and strive to provide compelling business value from incremental or new features e.g., the latest SAP Lumira 2.0. GrayMatter believes in delivering true ROI to each of its customers with the help of cutting-edge SAP BI solutions
At GrayMatter, Your Business Matters!
At GrayMatter, Your Business Matters!