Finance Analytics (FA+) Solution to meet Strategic,
Tactical & Operational Information Needs of your Finance Function
GrayMatter's FA+ is a comprehensive solution addressing BI & Analytics needs of finance function of any organization. The solution is role-based and meets decision support needs across levels in a finance function, from CFO to entry-level.
FA+ is a deployment-ready solution with a 4 weeks delivery promise made possible due to our pre-built financial analytics solution, pre-built holistic finance data model, pre-integration with major financial systems and engineering on multiple platforms.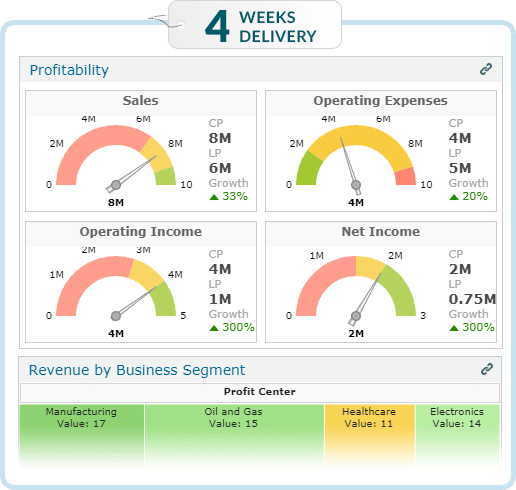 Modular Proposition
The modular design of the solution ensures coverage of specific sub-functional areas within Finance function. The image below depicts the FA+ modules and the value proposition of each of the modules

Payable & Receivable
Helps organization to analyze cashflows thus enabling more efficient cash & working capital management

Cash Management
Optimize cash inflows, cash balance and cash outflows of the organization

Financial Ratios
Analyses company performance and utilization of company's resources

Fixed Assets
Analyses with respect to their productivity, efficiency, performance and profitability

General Ledger
Heart of the account systemin any enterprise contains accounting transactions from sub ledgers

Treasury
Deploy idle funds obtained after addressing the organization working capital requirements

Audit & Compliance
Increases organization productivity and efficiency to focus more on core business
The FA+ Advantage
GrayMatter's Finance Analytics (FA+) is a pre-built analytics solution for finance function, that has successfully delivered value across industry verticals including technology, aviation, insurance, retail, transportation and others. The solution offers breadth and depth coverage of finance analytics and provides key business benefits
Finance Analytics Re-defined
At GrayMatter, Your Business Matters!
At GrayMatter, Your Business Matters!