Cash Flow Predictive Analytics
Successful businesses care for extensive cash flow predictive analytics planning. Mature finance teams following best practices review everything on a regular basis to see what actually happened versus what they said would happen.
Being aligned with your payment terms for payables and receivables, or plan your cash needs for the next quarter, year is not a minor task.
Many of our finance team customers, that we talked to, had the data to make it right. Many of them struggled at one of these points.
1.Data consolidation from various profit centers and book took significant time.
2.Real-time analytics on various key performance indicators was inefficient, not accurate, it took significant time to match the numbers. There was no way to identify anomalies, patterns.
3.Solutions available were typical dashboards. Power of data mining was advance analytics not built within.
One needs to utilize real-time data in finance analytics industry. Capability to pull data from various systems is a pre-requisite and is not a wish list item. Updating the cash flow forecast daily can help you identify new threats in advance and take the steps you need to manage the risk.
Embedded Business Intelligence dashboards allow you see your cash flow and working capital in details. Wherever you click you can filter further to find root causes as well. By doing this you can take immediate actions to optimize your Cash Flow.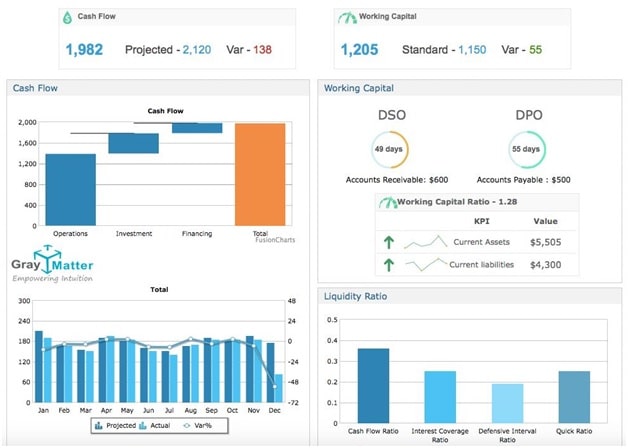 Register for Finance Analytics (FA+) Demo
Finance Analytics+ harnesses the data from all applications, enabling finance teams and companies to get answers to the most critical questions.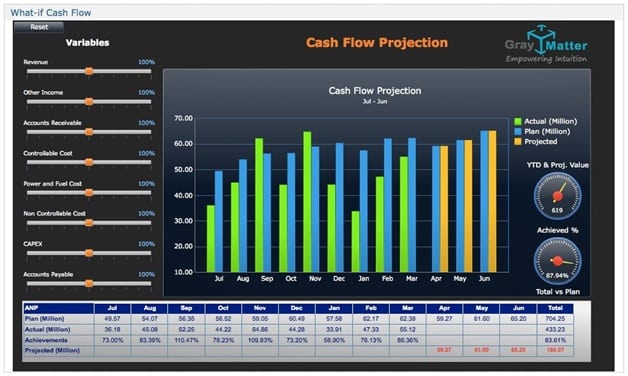 Cashflow forecast has traditionally been done based on experience and intuition and in an excel environment. In case there is history of counterparties and profit center available on the business intelligence tool, cashflow prediction can be scientific.
Predicting cash flows is a quantitative estimate of cash inflow and outflow for future periods. For any finance firm, efficient management of accounts receivable is more challenging than accounts payable because accounts receivable are dependent on factors not controlled by the firm. In the long run, accounts receivable also impact accounts payable. How quickly your customers pay their bills impacts how quickly you can pay your bills.
Cash flow predictive analytics planning, forecasting is done through state-of-the art algorithm and automated data discovery techniques that analyze your historical data, find patterns, outliers, anomaliles, corelationship between various variables.
Machine learning driven engine gives you a precise vision on what will affect your Cash Flow position and by how much. The traditional way to build a forecast is labour intensive. It doesnt fit in todays business culture where teams are expected to do more with fewer resources.
Predictive analytics solves this problem by digitizing and speeding up many of the tasks that are involved in planning your companies cash requirements. We analyze trends in overall cashflow as well as patterns behind counter party behavior. In-Built cash flow predictive analytics Model works based on following discovery questions:
Is there a pattern in a counterparty's payment behavior that we can mine from historical data?