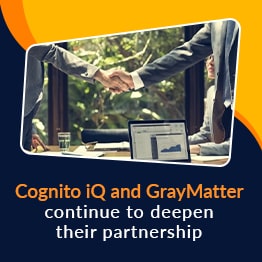 GrayMatter, an expert provider of Analytics and Data Science products and services, recently concluded a dashboard implementation project with Cognito iQ. This is one of many projects delivered as part of the association between GrayMatter and Cognito iQ that started in 2016.
The association has involved work across areas of business intelligence and analytics. For instance, while the current project included fixes in data integration along with the dashboard implementation, there have been past projects that were focused on the reporting piece.
Mr. Stuart Harrison, Principal Solution Consultant, Cognito iQ said "It's been a good experience working with GrayMatter. I would like to mention that their proactive service in addition to technical knowledge makes them a trusted partner for us".
Mr. Vikas Gupta, CEO, GrayMatter, said "It's been a pleasure working with Cognito iQ over the years. We are glad to have partnered Cognito iQ and provided them value in their journey of growth".
About GrayMatter:
GrayMatter is a Big Data, Analytics, Data Science, Artificial Intelligence & IoT Data Integration specialist company with over 200+ successful BI implementations across USA, EMEA & APAC across multiple industries.
From its inception till now GrayMatter has developed its deep domain and analytics knowledge and has developed industry specific analytics products GrayMatter has been acknowledged and featured in NASSCOM, CIO Review, SAP, SiliconIndia, Helsinki Hub, Airports International, Airport Focus, Airline & Airport Suppliers, Bloor International and many others.
About Cognito iQ:
Cognito iQ enables organisations with field-based technicians to break down the barriers between technologies and work smarter.
Dynamic Workflow empowers field-based technicians to access jobs, guides them through their tasks and documents their progress, in real time. Cognito iQ Analytics then leverages the value in vast amounts of field service data.
By simplifying the way operational strategies are created and executed, we empower teams to collaborate more effectively, operate more efficiently and deliver better service.