The Internet of Things is disrupting everything from infrastructure to automobiles and healthcare to telecommunications. Typically in Airport sector, service providers need to take a holistic view of the sectors in which they operate and automate sales processes to deliver across the board on convergent services including connectivity, support, data analytics and device management.
The Airport commercial management team in particular would need to have complete transparency in the sales which are transacted by each of their concessionaires. The Airport Management is interested in the accurate sales figures since their revenues are based on the sales value.
However, since most of the concessionaires have their own sales platform and setup, Airport management do not get the automated sales data and will have to rely on the monthly sales data shared by the concessionaire. This might lead to erroneous billing which might lead to potential financial losses to the airport management.
Also it is observed that airports do not a have centralized integrated repository of concessionaire contracts and also automated revenue computation based on the contract rules leading to inaccurate billing.
To address all these issues, it is imperative that the Airport management gets real time update on the sales transactions happening in each of its concessionaire/stores. I would like to call out at this point of time that the Store Sense solution applies to malls as well, where similar challenges as enlisted above, are addressed by this solution.
GrayMatter has an out of the box solution for implementing Real time Sales Data capture for each of its concessionaires. This can be implemented using GrayMatter's flagship product 'Store Sense'. Store Sense is an IOT Device which needs to be installed in each of the concessionaire billing outlets and it intercepts each of the customer printer receipts / billing orders and sends the data to their central server over internet. There is a software version of the solution as well, as an alternative to the hardware version (IoT device).
To summarize, following is the functionality of StoreSense
Collect reliably all sales / billing data from the outlets and log to a cloud server over internet
Read boarding pass & passport and collect the customer data
Push any sales promotions / coupons to passengers smart phones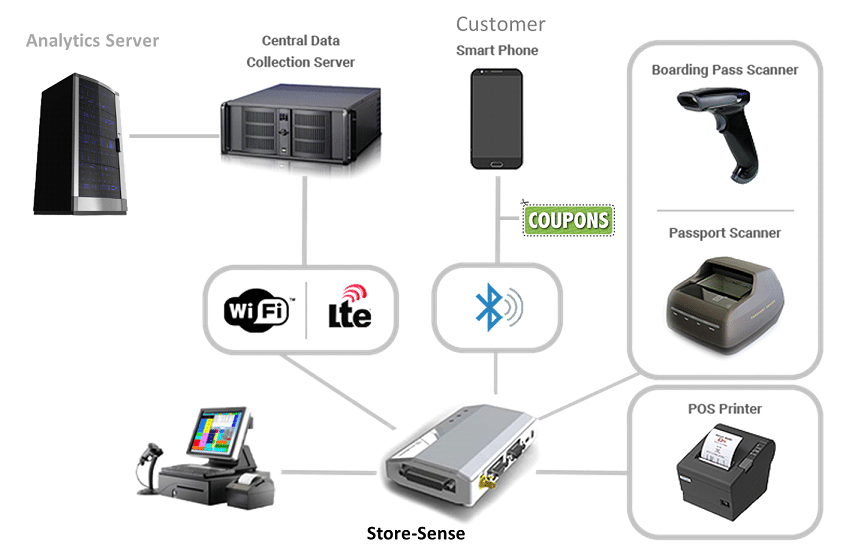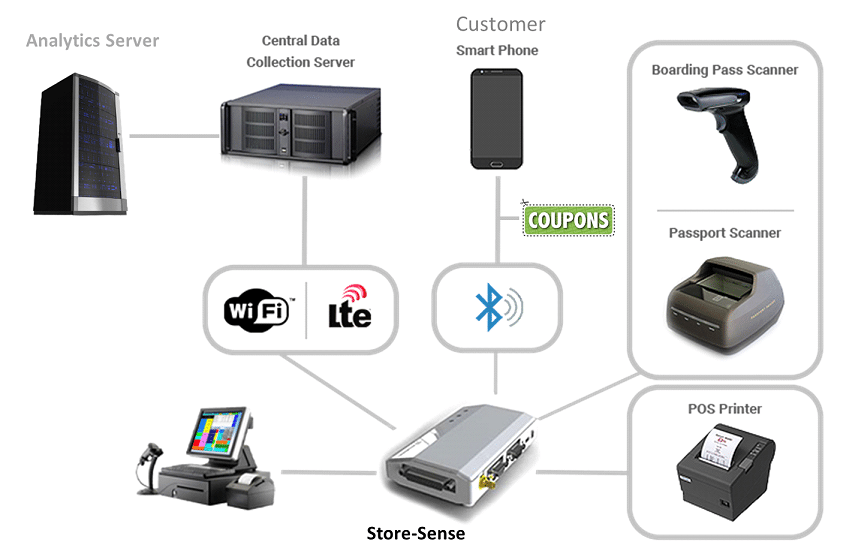 Implementing the Real time automated sales data capture would help the airports achieve
Automated capture of POS data with minimal intrusion in the concessionaire's systems
Ability to maintain and update contracts repository including linked contacts, conditions and business rules
Automated income computation based on revenue sharing rules and provisioning the computed income as input to billing system
Campaign management application with configurable promotion rules, ability to deliver the promotional offer via e-mail/SMS, support redemption and financial settlement
Business Intelligence & Analytics enabling reporting, analysis, auditing & monitoring of concessionaire sales
This might interest you as well