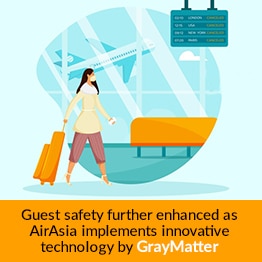 Travel safety has become ever more important in the face of COVID-19, and AirAsia is ensuring the highest standards of operational integrity by deploying industry leading technology that will predetermine guests' eligibility to fly based on the latest travel advice and relevant health requirements.
This has been achieved through GrayMatter's innovative digital solution, Scan2Board, which enables the scanning and uploading of passengers' medical certificates during online self check-in. The system allows the subsequent processing of these documents to determine whether the traveller possesses a valid  COVID-19 negative certificate, if required, and is therefore fit for travel.
Group COO of AirAsia Javed Malik said,  "AirAsia is all about value, choice and innovation. This system is highly effective for our airline, our guests and the respective government agencies, particularly in the current COVID constrained travel environment, making flying with AirAsia even safer and more convenient than ever before.  We are looking forward to developing the use of this new technology system across all of our relevant destinations which will play an important role to help ensure that air travel continues to be safe and more seamless than ever."
The solution is designed to recognise multiple templates of medical documents across various countries even if the format is different from one country to another. The solution is underpinned by machine learning and text analytics.
This cloud-hosted system is very tightly integrated and tailored to AirAsia's applications and is equipped with robust information security. The technology also provides reports based on the details of the medical documents uploaded and the approval / rejection status, including the reason for any rejection.
The system has been successfully implemented by GrayMatter and has already gone live for a number of AirAsia flights from Malaysia's Klia2 Airport to Singapore as well as to Surabaya and will be launching soon for flights to and from Jakarta. This new technology will eventually be introduced to other AirAsia destinations, where valid travel documents are required prior to travel.
"We are glad to have the opportunity to work with AirAsia for a pertinent cause like COVID prevention. I am happy to see GrayMatter delivering more and more value to the aviation ecosystem", said Mr. Vikas Gupta, CEO, GrayMatter Software.
About AirAsia:
AirAsia is a leading travel and financial platform company in Asia Pacific, providing air transport, travel and lifestyle services, as well as financial services. AirAsia started as a low-cost carrier with operations in Malaysia, Indonesia, Thailand, the Philippines, India and Japan, and has carried more than 600 million guests to over 150 destinations in its network across Asia, Australia, the Middle East and the US. Recognised for its world-class service, the airline has been named Skytrax World's Best Low-Cost Airline 11 years in a row from 2009 to 2019 and World Travel Awards World's Leading Low-Cost Airline for seven consecutive years from 2013 to 2019. AirAsia has since embarked on a transformation journey to become more than just an airline, with the inclusion of hotels, holidays, activities and online shopping on its travel and lifestyle platform airasia.com, integrated logistics through Teleport and digital financial services via its money app, BigPay. Follow AirAsia on Facebook (AirAsia), Twitter (@AirAsia), Instagram (@airasia), YouTube (AirAsia), Weibo (@亚航之家) and WeChat (亚洲航空).
About GrayMatter:
GrayMatter is a Big Data, Analytics, Data Science, Artificial Intelligence & IoT Data Integration specialist company with over 200+ successful BI implementations across USA, EMEA & APAC across multiple industries, with focus on airports.
From its inception till now GrayMatter has enhanced its deep domain and technical expertise and has developed industry specific products including Airport Analytics (AA+), Store Sense, Sky Edge and Car Park Revenue Management (CPRM) for Airports. GrayMatter has been acknowledged and featured in Airports International, Passenger Terminal, Airport Focus, Airline & Airport Suppliers, Bloor International, NASSCOM, SAP, Silicon India, Helsinki Hub, CIO Review, and many others.