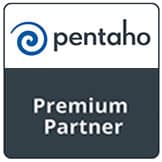 We are happy to announce that GrayMatter has been the only Pentaho Partner across the globe, who has won the 'Honorable Mention' award for two 'pivotal' categories out of the six award categories.
Below are our Honorable mentions
Best Enterprise Deployment – AIA Bhd. Malaysia
Best Big Data – UIDAI ( Unique Identification Authority of India)
GrayMatter congratulates all the teams that worked on these projects. It is a great 'moment of truth' for our Pentaho practice.