Business Objects Migration, SAP BI Migration Services – Why BI 4.1 Migration?

SAP BI 4.1 Feature Snapshot
SAP BI Migration Services

Data Access:
New dimensional semantic layer, multi-source universe and better integration with SAP BW Services

Usability:
Interoperability, advanced analytical insight, brand new search capability and harmonized user experience across the suite

Cost of Ownership:
Integrated platform monitoring, advanced auditing capabilities, 64 bits server architecture, supportability and root-cause analysis
Enterprise Readiness:
Multi-tenancy enhancements, new upgrade tool, new BI functionality, SAP product standards, multilingual and hot backup of BI repository

Lower user support calls with intuitive information access:
Content search, portal integration, alerting, insight to action, new Customizable BI Launch Pad, BI Workspaces and collaboration via SAP Jam

Save time and resources to manage and administrate your system:
SAP HANA support, new maintenance model, monitoring and diagnosis, auditing enhancements, lifecycle management and System Configuration Wizard
BI 4.1 Migration – 4-step Migration Approach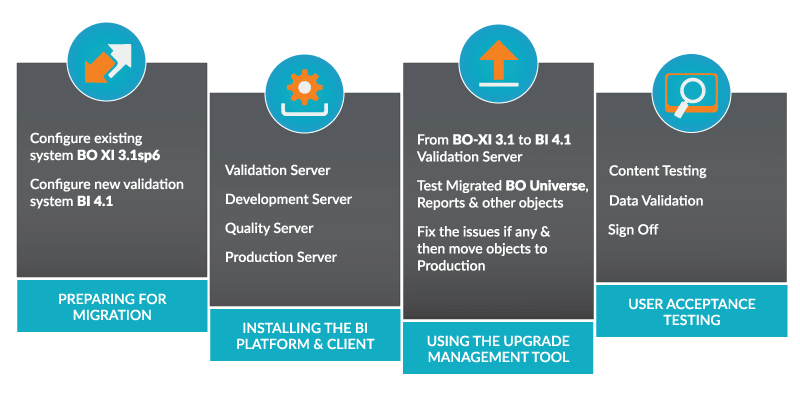 At GrayMatter, Your Business Matters!
At GrayMatter, Your Business Matters!