Adopt an Outcome Driven SAP BI Production Support Model
Tailor-made Production support packages for clients to allow them to re-align their in-house resources for development and design

24*7 availability of skilled Production support teams

Stringent SLA-driven response, resolution times across P1, P2 and P3 priority levels

Location-agnostic, flexible teams that can be ramped up and ramped down as per need

Ready access to GrayMatter's repository of Best Practices, processes, knowledge base

Greater ROI with accurate and timely fixes coupled with reduced resource costs
SAP BI Production Support Coverage
Response/Resolution for all user tickets as per
SLA
Coordination with product vendor, if required
Deployment of major and minor releases, including enhancements
Proactive health check and performance tuning
Independent easy administration of reports and objects
Timely capacity planning and automatic version management
Seamless quick software patches & upgrades
Quick fixes for data related issues
Monitoring usage and helping in adoption
GrayMatter provides dedicated, 24*7, location-agnostic, SLA-driven response/resolution as part of its production support services.
The key stacks for which we provide business intelligence support are listed below. These include SAP BI support, SAP BO support, SAP BW support, Pentaho support, Qlik support, Informatica support. GrayMatter's excellent track record in delivering business intelligence support to clients across the globe makes it a leading production support services provider in the BI & Analytics space.



Support Process
GrayMatter has a structured process to enable smooth, swift and accurate response and resolution to production support incidents. Industry standard tools like Jira, Zendesk, Freshdesk or any other tool used by the customer are used to enable the ticket management process. The diagram below summarizes the process:
Customer raises the ticket via, phone, e-mail or GrayMatter support portal
Upon raising the ticket, an auto response will be generated and sent to the request submitter with a unique ticket number
The support representative shall review the ticket and an appropriate response will be sent to customer either asking for more clarifications or an expected date of closure
Any change in the status of the case will be sent to the customer through email registered against the user who created the issue
The ongoing progress on the issue will be updated to customer through comments on the support portal and notified to customer through email automatically. The customers are also allowed to enter comments against each issue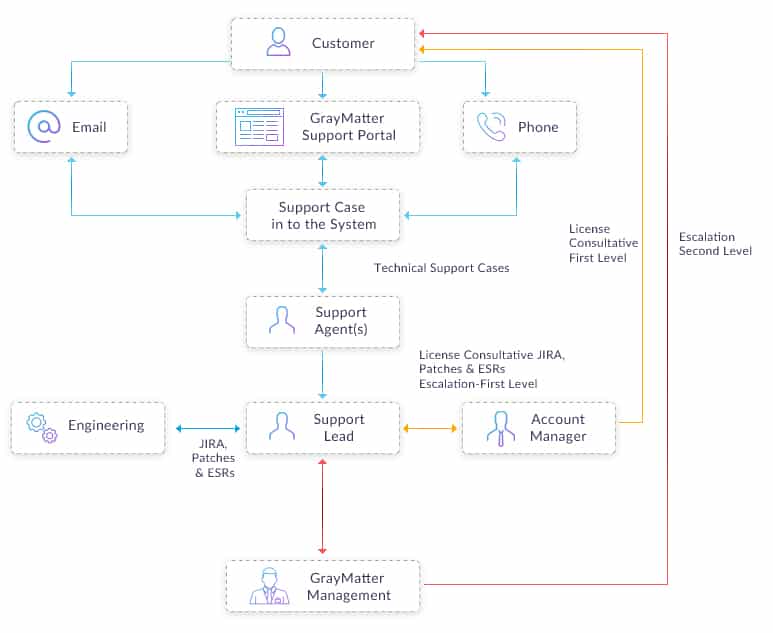 At GrayMatter, Your Business Matters!
At GrayMatter, Your Business Matters!