Business Intelligence and Analytics is a dynamic space with rapidly changing end user needs, evolving solutions and constant enhancements in underlying tools and technologies. More often than not, foresight helps in keeping you ready and prepared for the future data analytics trends and developments in the world of BI and Analytics.
As I see it, the following 5 trends will be quite path-breaking, in the days to come:-
1. Data Lake Management System – Your business is data rich, data obtained from a mix of external and internal sources. Are you leveraging all this data to its fullest? Well, that's where data lake management comes in. It is the process of crowdsourcing any structured and unstructured data within and outside the organization, collaboratively transforming the data into useful and meaningful shape and finally presenting the data for end-user consumption. This process is defined in three layers of data processing namely data sourcing, data farming and data transportation enabling data movement from impure form to cleanest form.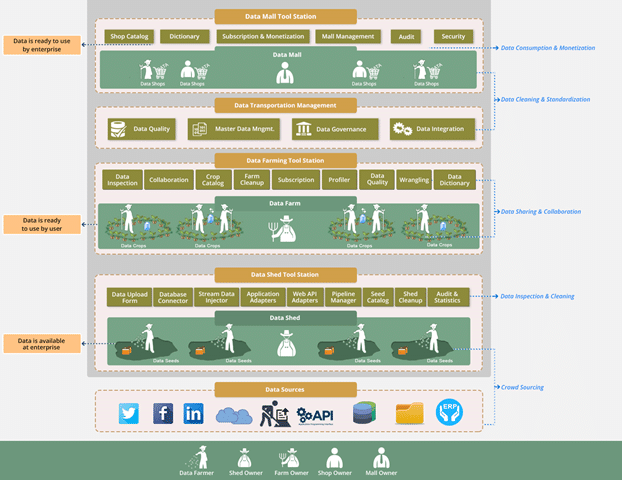 The objective is to obtain data analytics trends from as many sources as possible, cleanse and transform the data into a form that can be used by the entire ecosystem of business users. Data Analytics Trends is democratized across the enterprise, empowered by data catalogs accessible to all and ready for subscription. The catalogued data is equipped with self-service capabilities for end users to suit their needs.
2. Speech Analytics – Speaking is easy, you don't have to type! So it is not surprising then, that Speech Data Analytics Trends is fast becoming a pervasive reality. Let me talk about a couple of use cases here.
Speech-based search provides convenience to users in terms of being able to search based on keyword or search phrases spoken! Search engines retrieving search results based on such phrases spoken, is a reality and a boon for the future.
Speech-based intelligent chat bots that not only respond based on questions spoken, but also provide suggestions / inputs to further refine the query. The speech-based bot parses the free speech text to formulate a query to retrieve the response from the back end. For example, if you are looking for annual sales number of your organization, you can speak that question and the chat bot will retrieve the number. If you ask for a monthly break-down, the chat bot would prompt you for graphical format in which you want to see the output and produce the desired output, once you speak the preferred format.
3. Corporate Store for Analytical Apps – Are you sitting on a wealth of analytics ideas and innovations trapped in the minds of your co-workers? A central store for analytical apps within the organization, allows employees and teams to create, deploy, distribute and monetize analytical apps. This brings out the best from the organization's in-house talent, by creating a platform for them to showcase their innovations. These apps also turn out to be good candidates for re-use across the organization for various internal and external needs. In summary, such a platform encourages BI and Analytics innovation as well as adoption.
Depicted below is the typical process from registering on such a platform, to developing, testing and releasing the app and finally making it available for subscriptions by end users

4. Social Collaboration – As a key business executive, you need to go through numerous dashboards, reports and analyses on a daily basis. You also need inputs, comments and observations from your co-workers on each of these analyses. Well, you can always go back and forth over e-mail trails to exchange these inputs, but that's a meticulous and long process! Social collaboration enables co-workers to add their comments on any cell or element of a dashboard, report or analyses. The system saves these comments so that subsequent users can refer to these while examining the report.
And the collaboration doesn't stop there! These comments can be integrated with your enterprise chat app so that you can engage with your co-worker regarding a particular comment, upon a single click.
5. Mobile Enablement – Last but certainly not the least, is the need for seamless consumption of BI insights on the device of user's choice. All the technical skills and domain expertise that go behind building an insightful visualization are only as good as the quality of rendering on the end user device. This is certainly a must have, for good, for any and every BI depiction.