Access enterprise data with ease to get secure and intuitive critical info.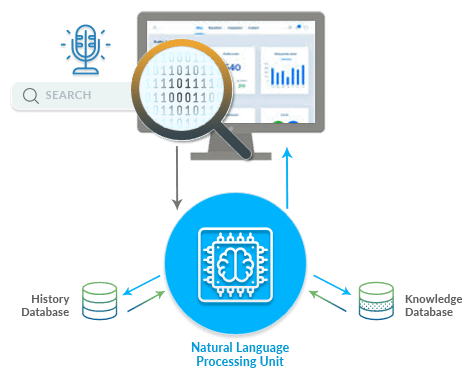 Key Features:
Voice Search Analytics enabled search using google chrome.
Mobile and desktop enabled platform.
User Query handling (Structured/unstructured/keyword queries).
Query suggestions based on user's primary query.
Standalone and modular embeddable application.
Multiple visualizations for a single query.
Switch visualization to other types.
Export visualizations to image, csv and email attachments.
Auto scheduling of grammar generation feature based on updated configuration.
Integrated platform with relational database.
Python based platform for parsing natural language query.
Auto spell correction
Modular Proposition
The modular design of the solution ensures coverage of specific sub-functional areas within all domains. The image below depicts the Speech/Text Search Analytics, Voice Search Analytics modules and the value proposition of each of the modules

Easy To Use
Helping non technical people to access enterprise data to get critical info in a secure and intuitive way.

Faster Time To Value
Generally require many clicks to complete the task due to large volume of options and setting.

Reporting/Analyzing Across Multiple System/Sources.
Creating seamless experience across all source types, enabling quick and reliable insights.

In Document Analytics.
Enable organization to transform static document (ppt, report summary pdfs etc.) and make them actionable and dynamic.
GrayMatter's Speech/Text Search Analytics or Voice Search Analytics is a plugin and play solution with 6-8 weeks time of deployment. Easy to use especially for the non technical people and delivers value across industry verticals including technology, aviation, insurance, retail, transportation and others. The solution offers breadth and depth coverage of various domain analytics and provides key business benefits.

GrayMatter's Speech analytics platform is based on a mixed implementation approach, wherein we have leveraged the advantage of context free grammar parser for generating SQL queries and machine learning approach is used to handle unstructured, misspelling, poor grammar sentences which are not parsed by grammar, resulting in improved accuracy.