GRAYMATTER'S EXPERTISE
IN ETL SERVICE
Today's companies are generating and maintaining vast volumes of data on a regular basis. However, the value of all this data is often unrealized since the number of data sources and their scale render it difficult to deal with. With GrayMatter, you no longer have to deal with complicated ETL processes; instead, you can easily outsource them using our expert ETL as a service offering.

ETL service for Data Integration
Any Incorporation helps you to link to any form of the data source. We'll have access to the data no matter where it's processed, in which shape it's in, or from what database it comes from. Avoid the time-consuming job of data planning required to set up complicated ETL processes by utilizing our ETL as a service, which puts all of the data your company uses together without requiring any action on your part.

All of the information in your data sources would be processed in our high-speed, safe data center, guarded by electronic access control, video monitoring, and alarm systems 24 hours a day, seven days a week. At all times, we remain devoted to safeguarding our customers' most confidential details.
Whenever a shift in your data happens, our ETL as a service manages it seamlessly for you, meaning you never skip a significant occurrence. We will restructure the underlying data schema for optimization purposes without you having to do something. As a consequence, all of the dashboard functions we have are unregulated.

Data Mapping Mapping Made Easy
Data Mapping Mapping Made Easy The schema is automatically determined by our software, which also allows for automated integration mapping. We will tailor the mapping for you if you prefer to have complete power over it.
WHAT IS THE GAP BETWEEN ETL INSTRUMENTS AND ETL AS A SERVICE?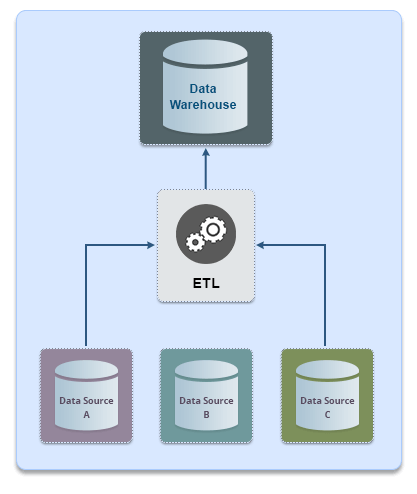 The acronym "ETL" stands for Extract-Transform-Load, which corresponds to the ETL method's three stages. It is a technique for reading data from a database, transforming it into a different format by various methods, and then loading it into another database. It has proved to be highly helpful for many enterprises, as we have continued to collect and work with exponentially vast volumes of data all around the globe. All of that data was also developed and processed from disparate sources, necessitating the development of ETL tools to translate it into a consistent format for querying and analysis.
The amount of self-service BI tools has exploded in the last decade, owing to a growing need for companies to become more flexible and making better-informed choices quicker by using their data rather than depending solely on IT teams. However, the issue of translating data and setting up complicated ETL systems persisted – no review is feasible without clean and harmonized data. This is why, in addition to our BI apps, we have this service to alleviate you of this time and resource-intensive pressure point.
WHY ARE ETL TOOLS NECESSARY FOR DATA INTEGRATION?
Your in-house IT specialists may have been willing to manage all of your details at first. However, today's IT departments are busier than ever when the pace of activity has increased, and they would likely struggle to find time to update scripts any time a new data source is published. Data migration and convergence are even more complicated than ever before due to the tsunami of data that businesses are faced with today. Data processing is becoming more complicated as a result of many converging factors, including the increased usage of cloud-based services, the evolving nature of Technology, and the proliferation of devices generating and storing large volumes of data at the same time.
When dealing with large amounts of data, businesses need real-time or near-real-time analytics in order to make the most informed data-driven decisions possible. That means they can't afford to wait for a batch phase to finish because of an out-of-date method or overworked IT teams who can't dedicate 100% of their energy to data retrieval, transformation, and loading. ETL platforms are meant to be professional-grade solutions that can handle and scale-up massive volumes of data without risking errors due to the dataset's complexity. Depending on the data source's size and consistency, they produce the data in the quickest possible period. Internally developed tools need substantial growth, a high degree of experience, and a quality assurance commitment to achieve the same performance, speed, and resilience – and all of this would cost far more than using an ETL method.
Since data integration is such an important aspect of any BI project, using the resources of an ETL service can save you time, effort, and money while retaining the consistency and scalability that data integration demands. As a result, ETL tools are critical for the accuracy of evidence that can be used in decision-making and monitoring in the future. This is why, in addition to our program implementation, we want to help you take advantage of all the benefits that a modern ETL tool will bring to your company by supplying you with an ETL as a service deal.
WHAT ARE THE COMMON STEPS IN THE ETL PROCESS?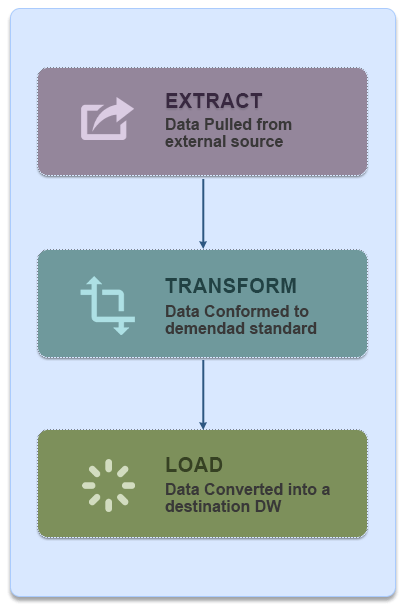 The three ETL method stages are summarized below: extraction, transformation, and loading are the three stages involved in the extraction, modification, and loading phase. Extraction, transformation, and loading (ETL) are the three stages that give the ETL method its name.
The first phase is extraction, which involves linking to a database and gathering the necessary information. The extraction process's goal is to collect this data with as few resources as possible, and it should have no negative effects on the data source's output, response time, or locking.
Second, the transition process applies a series of laws or functions to the derived data in order to translate it to the regular format. It is thus prepared and 'cleaned' in preparation for loading into the final destination. Depending on the nature and accuracy of the data source and the business and technical specifications of the target data center or database, this phase will take anything from a few hours to multiple days to complete.
Finally, in the loading process, the collected and cleaned data will be imported into the target database or warehouse in the loading process. Based on the specifications, the data may be overwritten to contain cumulative data; instead, additional data may be inserted at frequent intervals in a historical format. The frequency and amount of additions or replacements vary based on the required capital as well as the company requirements.