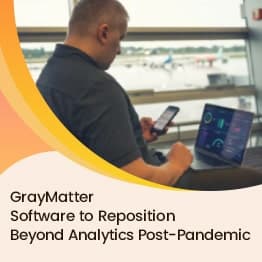 GrayMatter Software CEO, Mr. Vikas Gupta discusses newly-launched products, his ambitious goals for repositioning the company beyond analytics and his new normal with Jeannie Wong, our head of communications and events.
JW: What has become the new normal for you and your team? Did the pandemic trigger any unexpected new activities or opportunities?  
Business continuity with work from home, collaborating and innovating remotely has become the new normal. We have always been a highly analytics-focused company for airports. This pandemic triggered us to re-think our analytics-only approach. Analytics is always great to have but not a must have. We have now greatly invested in new ideas and next-gen solution for airports. 
We innovated and developed an Airport Commerce platform during this time. A platform that can manage all commercial activities at an airport online. Passengers, through mobile apps and contactless experience at airports, can shop and order online food, duty free products, high-end branded products or book various services like fast track, porter, meet & greet, wheelchairs etc.  Airport customers can book rentable properties like car parking, advertisement space and private aircraft. This Airport Commerce platform has now created several new opportunities for the airport. The platform enhances the passenger experience through capabilities like indoor navigation, locating your service provider on a mobile app or estimated time to clear various check points and queues. The complete journey of passenger (home to airport to home) is mapped and enabled on mobile device with contactless experiences throughout journey.
We developed a complete business model and solution to create, develop and implement an airport loyalty program along with our airport commerce platform. Airports can significantly improve the passenger experience and generate additional revenue streams even when passengers are not travelling. 
We added a new product to our bouquet of solution offerings called the real-time passenger document processing system. The need came from our first airline customer Air Asia. The system is automated to process COVID-19 certificates, uploaded by passengers during the online check-in process to confirm whether the certificate is valid or not. It accordingly determines if a passenger is allowed to check in or not. It was quite a complex process as there was no standard for such certificate. This system was then innovated and further developed to handle other passenger documents like passport, visa, etc., to compare and match the scanned document with actual passenger information. 
This pandemic triggered us to re-think our analytics-only approach.