Expert
SAP BI

 Consulting services driven by GrayMatter's Competency Center
Expert
SAP BI

 Consulting services driven by GrayMatter's Competency Center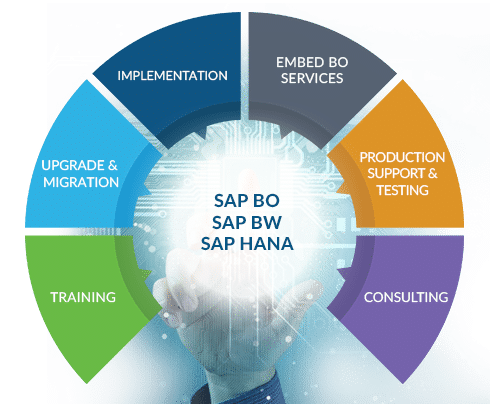 GrayMatter's SAP BI Consulting Services Journey
GrayMatter's SAP BI Consulting Services  have been successfully delivered in several global engagements to customers across verticals including Retail, Electronics, Manufacturing, IT, Airports & Infrastructure. These projects include SAP BI Consulting Services work done across data integration, data warehousing, dashboarding, reporting, self-service analytics, predictive analytics, migration and more, with the entire range of tools namely SAP BW, SAP BODS, SAP HANA, SAP Design Studio, Lumira, SAP Dashboards, WebI, Crystal Reports and SAP PA. GrayMatter's excellent capabilities in SAP BI tools coupled with deep industry-specific domain knowledge, makes us the vendor of choice for SAP BI Consulting Services & Implementation.
GrayMatter Credentials
Count of projects delivered
SAP Analytics Cloud Capabilities
Make better and faster decisions in your enterprise with SAP Analytics Cloud. We bring in the following capabilities using SAC:
Integration with SAP and non-SAP transactional and analytical systems including SAP BW, SAP HANA, SQL Server, OData, Salesforce, Google drive, Excel and many more

Enhanced planning and predictive capabilities

SAC Stories – Enabling business users without programming knowledge to create Self Service Dashboards (SAC Stories)

Enterprise Dashboards with advanced features using Analytics Designer

Customized Boardroom solutions for your business OR for your key clients

Enterprise-wide Collaboration enabling democratization of business insights
Our SAP BI Consulting Services
SAP BW Offerings
SAP Business Information Warehouse (SAP BW) provides a BI platform equipped with a suite of tools to deliver data warehousing, analysis, and reporting to empower management decision making.
GrayMatter provides end-to-end services covering
Greenfield implementation of SAP BW, Upgrade & Migration to 7.4
Integration with SAP HANA in various configurations
Realization of Real-Time, Mobile, Agile and Self-Service BI
SAP HANA Offerings
As an evangelist of In-Memory Computing and the latest trends in BI, GrayMatter has adopted a market-leading approach in helping enterprises assess, plan and integrate HANA into their BI architecture.
We bring prior hands-on and in-depth expertise in this space, and can guide your HANA initiatives end-to-end covering strategy, consulting, licensing, implementation, reporting, performance optimization and support.
SAP BusinessObjects
GrayMatter's expertise in SAP BusinessObjects is truly end-to-end, covering installation, administration, Universe design, reporting & visualizations. Specific capabilities include
Toolsets: Web Intelligence, Crystal Reports, Analysis for Office, SAP BusinessObjects, SAP Lumira
Integration: With SAP BW, SAP ECC, SAP HANA, SAP BusinessObjects Cloud
Business Imperatives: Mobile BI, Self-Service & Real-Time BI
SAP Lumira 2.2 Offerings
SAP Lumira Designer Services
With SAP Lumira Designer dashboards becoming mainstream, executives now have access to an enterprise-class, scalable, and high-performance platform that renders rich and powerful visualizations.
SAP Lumira Discovery Services
Among the tools in the SAP BI portfolio, SAP Lumira Discovery is the only tool that can handle all the five aspects of Self Service BI – covering data acquisition, preparation, visualization, exploration & collaboration.
GrayMatter's SAP journey has evolved over the past decade and spans the entire gamut of SAP BI technologies & tools. Being an SAP partner, we are cognizant of the constant innovation that the product roadmap involves and strive to provide compelling business value from incremental or new features e.g., the latest SAP Lumira 2.0. GrayMatter believes in delivering true ROI to each of its customers with the help of cutting-edge SAP BI solutions
GrayMatter has successfully executed Business Intelligence and Analytics project for our finance department. The project comprises of SAP BW/BO setup and development of dashboards &reports for our finance department. GrayMatter's technical and functional team has relevant skill sets on SAP BW/BO and has been very supportive throughout the project duration.

---
Mr. Surendranatha Sathvik, Mindtree Ltd
Associate Director
At GrayMatter, Your Business Matters!
At GrayMatter, Your Business Matters!