BOBJ offerings:
SAP BI Implementation Services
GrayMatter has proven expertise in delivering best-in-class dashboards, reports and self-service analytics using the entire range of SAP BO tools. Not only do we excel in creating applications from the scratch using SAP BI Implementation and SAP BO we also provide migrating applications from one tool to the other, thereby supporting business continuity.
SAP Design Studio
SAP Dashboards
SAP Crystal Reports
SAP WebI
SAP Analysis for Office
SAP BI Implementation
SAP BW Offerings
SAP Business Information Warehouse (SAP BW) enables data warehousing, analysis and reporting to support business decisions. GrayMatter experts leverage following features of BW to deliver customers' SAP BI Implementation needs:
Pre-defined business content for tight integration with SAP ECC
Industry specific customizable content
Standard extractors available with ability to create custom extractors if required
Drill-up and drill-down using standard and custom BW hierarchies
Smart DW engine to enable efficient management of master data, dimensions and hierarchies
Integration with SAP BO for intuitive, insightful reporting
Integration with SAP HANA for faster turnaround of huge data volumes
Integration with Non-SAP data sources
Streamlined planning and consolidation through integration with SAP BPC
Robust authorizations at database and report level; single sign on for
BW and BO
SAP BI Implementation – Leverage BW on HANA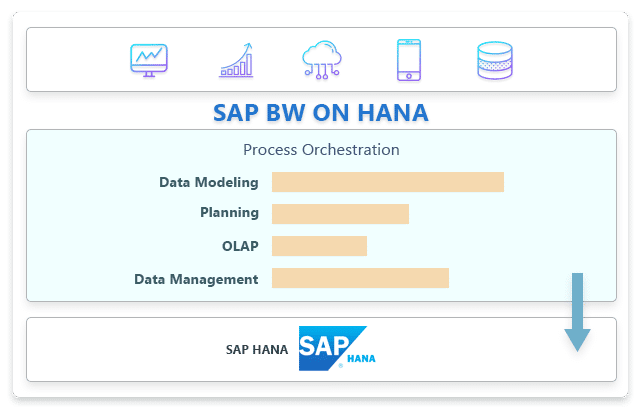 Faster Data Loads
Faster queries & reporting
Faster Dashboards
Simplified data modelling
Reduced landscape size
Accelerated planning with complex scenarios
Reduced TCO
At GrayMatter, Your Business Matters!